So I was going to try to take a photo of my living room that gives an idea of just how obsessed I am with photographs, but I'm feeling lazy and the place is a mess (I'm drying a bunch of laundry that can't go in the machine, and I'm not the type to air my clean laundry on the internet), so here's a description instead. In my apartment, total, I have
5 pictures of grandparents, 2 of which include great-aunts and -uncles, 1 of which includes my nephew;
3 pictures of my parents together, 1 picture of my dad and my little sister, 1 picture of my parents and little sister;
1 picture of my best friend and her husband, 1 picture of my best friend and her daughter, and 1 picture of best friend's daughter solo;
8 pictures of landscapes, including a Georgia O'Keeffe-style closeup of mountain laurel, the Pennsylvania state flower;
6 pictures of various friends;
and a whopping 10 pictures of my little sister Kate alone or with me, and 3 of her with our nephew. She's not only one of my favorite people but my favorite to take/look at pictures of, 'cause she's so pretty. Of the untold millions of photos of her on my computer, these are my favorites: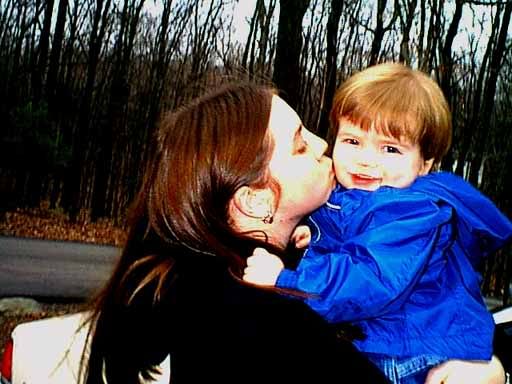 The picture of Kate and Ian (our nephew) is quite possibly my favorite picture ever. That was Thanksgiving 2001, I think, when Ian was just over 1 year old, and Katie still had her natural hair color. Isn't it pretty? Tell her to go back to it.
ETA: my dear Katiedids: sorry I kept calling you "little." I meant "younger." Except that you are an inch shorter than me. So there.